OUR MISSION
"Serving God and our community: the children, youth, and adults, who find themselves without God, home and family."

Rescue Ministries of Mexico is registered in the United States as a non-profit organization under chapter 501 C(3), whose sole purpose is to provide for the needs of the shelters & ministries of its' sister organization Vino, Trigo y Aceite in México. Vino, Trigo y Aceite is a Christian organization founded in 1988 in Ciudad Juarez, Chihuahua, México by our Pastor Guadalupe Varela de Páez. For over 20 years Vino, Trigo y Aceite has been registered as both a Civil and a Religious Association in México, thus allowing us to work with children, adolescents, adults and seniors in key cities of the state of Chihuahua such as: Ciudad Juárez, Chihuahua, Chih., Ciudad Madera, El Largo Maderal, La Mesa del Huracán, Chih. and in the city of Gomez Palacio in the State of Durango, México.
NOTE FROM OUR FOUNDER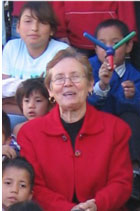 As we look back and reflect on the events of our city from the past few years, we want to lift our voices in thanksgiving to our God, for He has always been faithful to us. We live in times of high turmoil and violence in our city, and as challenging as it has been, our God has not allowed anything to stop us from helping those who come knocking on our doors.
Through the generosity of people, we have been able to grow and expand the aid we provide from our shelters. The calling closest to our hearts is helping children who find themselves without a family, as well as those who have been abused or are at high risk.
God has given us the wonderful opportunity to feed the children and hand out care packages and clothing to families in our community, but most important, we have been able to provide the spiritual guidance to those who need to hear the good news of salvation. We have seen lives touched and transformed by the love of God in our church, shelters and at our center for men.
Furthermore, we are grateful that God has provided the resources for our ministry to run a full time orphanage and elderly home in the city of Madera, in the beautiful mountains of the State of Chihuahua, Mexico.
Thank you for your generous support. No gift is to small to make a difference in someone's life.
At His Service,